What I ate Wednesday!
Jenn from Peas and Crayons
hosts this every Wednesday. You document what you ate one day from the week. I have tried to do this many times, but then food is pretty important to me so I would just go ahead and eat it without taking a picture. WIAW fail ;)
Head on over to Jenn's blog to learn more!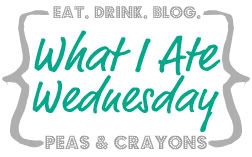 breakfast-
Kenny brought me back some DD coffee from Florida. He said he didn't see a Tiffany's. I love that I'm special enough for him to even
think
of bringing home a little blue box. Sadly, I was just as excited for some DD coffee. Well, you know, almost;)
Oatmeal! It was a cold and dreary day so I felt like oatmeal was calling my name. In the mix I put rolled oats, a scoop of vanilla protein powder, almond milk, chopped bananas and some delicious white chocolate peanut butter.
Snack/little lunch- Grocery shopping and then a trip to Costco. Which means samples. Duh. I had an apple before we went grocery shopping and seeing all that food made me hungry. Kenny forgot his card and I had uhh, thrown mine out because I didn't think we were going to renew. Since I was at the door and really wanted samples I went to the counter and asked the man what happens when you lose your card. He joked and told me it cost $3000.00 Haha, ok that's funny, but I would have picked a different number, like $75.00.You should see my new picture, wow, it's some cute ;)
turkey sausage and rice pudding. FINALLY I found turkey sausage!
SO excited! I ended up going back and stealing another sausage piece:D
The following pics are funky shapes and sizes because I had to take screen shots of my photos. It wasn't picking up my new uploaded pics. Anyhow...
laughing cow cheese with some rice crackers and carrots with tzaziki
trail mix with some m+m's, that's right, the orange m+m is a peanut butter m+m.
greek yogurt with cereal. a little snack before supper
Supper/Dessert-
We made tzaziki wraps with the tzaziki dip from Costco. I think it's the best stuff I've ever had because it's made with greek yogurt so it's thicker.
I swear there is chicken and more tzaziki under there.
add another cookie and that was my dessert.
That's that. My first What I ate Wednesday.
Questions:
What was your favorite thing you ate yesterday/today?
What do you think of WIAW? Is it a keeper?